**This opportunity is for students at Bellevue College only**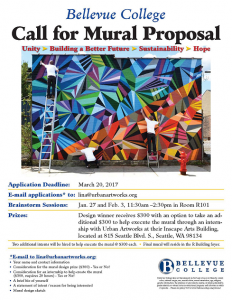 ⇒  The below info is to give staff/faculty/admin a little bit more info of what will be going on behind the scenes.⇐
DEADLINE FOR ENTRIES:  March 20
MURAL THEMES: Unity – Building a Better Future – Sustainability – Hope
**Brainstorm Sessions:  Jan. 27 & Feb. 3, 11:30 am – 2:30 pm. Room R 101**
All submissions must be received to: lina@urbanartworks.org by the completion of the deadline. Submissions should be accompanied by:
student's  name and contact information
consideration for the mural design prize ($300) YES OR NO?
consideration for an internship to help create the mural? ($300, requires 20 hours) YES OR NO?
a brief bio about yourself
statement of intent/reason for being interested
mural design sketch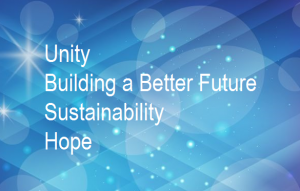 The design winner will receive $300.00 with the option to also intern and help with the painting process of the mural for an additional $300.00; allowing the design winner to receive a total of $600.00.
The total project budget is all inclusive of design revisions and completed art work. Contracting will be done in one phase upon the completion of the project.
The 2nd and 3rd runner ups will be offered an internship for a total of $300.00 each to help paint the mural at Urban Artworks' studio, with the expectation that each runner up spend 20 hours helping paint/execute the mural.
Submitted by: Fernando Pérez
English Faculty
Arts and Humanities – R230-D