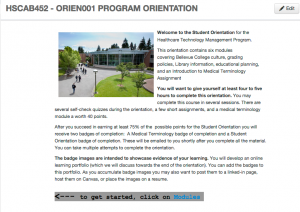 We began developing an online student orientation in 2013.  Actually I should say that Kimberly Hassell, the HCTM Program Manager,  and Dr. Pamela Charney, the Program Chair, started the process over  a year ago. This was always indented to serve as more than just a single welcome page posted to a website. A goal was to create an informative course of material for students entering into HCTM.
After I was hired as the E-Learning Specialist in spring of 2014, we added to what was already built the previous year. By September we had designed a robust online orientation including information about student learning styles, college culture, research methods, and much more.
While I'm proud of the work we accomplished my main point here is to bring attention to the orientation itself as something your program might consider creating.  Aspects of the orientation that I think will prove the most useful are:
An excellent library orientation created by Lisa Lapointe, a Baccalaureate Librarian at the college.
Kim Hassell's description of  how much work is in a  college "credit." I doubt most students give this much thought, and my guess is that many faculty don't realize how much time or homework is recommended for a 5 credit course.
Pam and I utilized the online tool Softchalk Cloud  to build a medical terminology module. With further planning it may eventually work as a 1 credit course.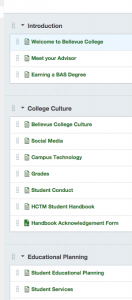 The orientation was released to new HCTM students  two weeks before the quarter began. They were notified of our expectation that they complete by the 2nd week of the quarter.  Yes- the orientation was a lot of work, but we see it as an investment. We welcomed our students to the program while also setting a tone of high expectations.
Your  program/division could start by developing a simple module with a few pages in a Canvas shell. Maybe include a self-check quiz to assess students' understanding. This can be scaleable, and your program could add content periodically over the next few quarters.  Eventually you could have an orientation for students that  could last for years, and give them a sense of place as they start their new educational journey.