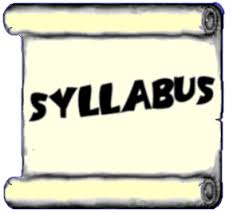 (revised 9/8/2016)
Please use this revised Syllabus Template for the 2017-2018 academic year.
The concept of a course syllabus (Syllabus Template) has changed over the past years from a statement of course content to a much more formal contract with the student, wherein college policies and instructor expectations have to be spelled out in much greater detail.  In order to give our students accurate and current information, we have created this tool to assist instructors with syllabus preparation.
In general, we need to give students all the information they need to meet the course expectations successfully.  For example, if we don't want to see plagiarism, we need to tell them what plagiarism is and how to avoid it.  If we have special needs students, we need to point them toward the resources that will enable their success.  If we have specific classroom expectations about cell phone usage, late arrival, etc., we need to tell students about our expectations and the consequences of not meeting them.
This Syllabus Template provides faculty with the information needed to write a complete and comprehensive syllabus.  Calendars for the term are also provided.  Statements from the various campus areas are updated regularly by those who created them, so be sure to check each year for new updates, which usually occur in early June.
Revised August 29, 2017