I'm having some kind of fun playing with the various features of Bellevue College's new Microsoft Office 365. One of the coolest, most promising features is embedding Office documents into web pages. Over the Christmas break, Bruce Wolcott showed this to me– he had embedded a Word document in Canvas. It was super-cool!
So now I want to try it here in our Commons blogs. The Commons blogs are WordPress-powered, which is a different set of technologies than either Office 365 or Canvas, so it may not work right just yet. Nevertheless, here goes.
Here, I just paste the URL of a document in my OneDrive, and convert it to a hyperlink:
https://bellevuec-my.sharepoint.com/personal/krowley_bellevuecollege_edu/_layouts/15/guestaccess.aspx?guestaccesstoken=L9j3jlafHhbaIRWMIKTJFIjN2nFmEpLl9Ato4R5KTGI%3d&docid=0699e67f0e7764b1eb81e0880cbc76915
Well, that works as expected: that is, it opens a new tab in my browser, and inside that tab, opens Word Online, with the document ("Book Love") open. However, I am currently logged into my OneDrive/Office 365 site. If I am NOT logged in, what happens?
Ah, very cool! It opens the document in Word Online, but with view only permissions. Perfect.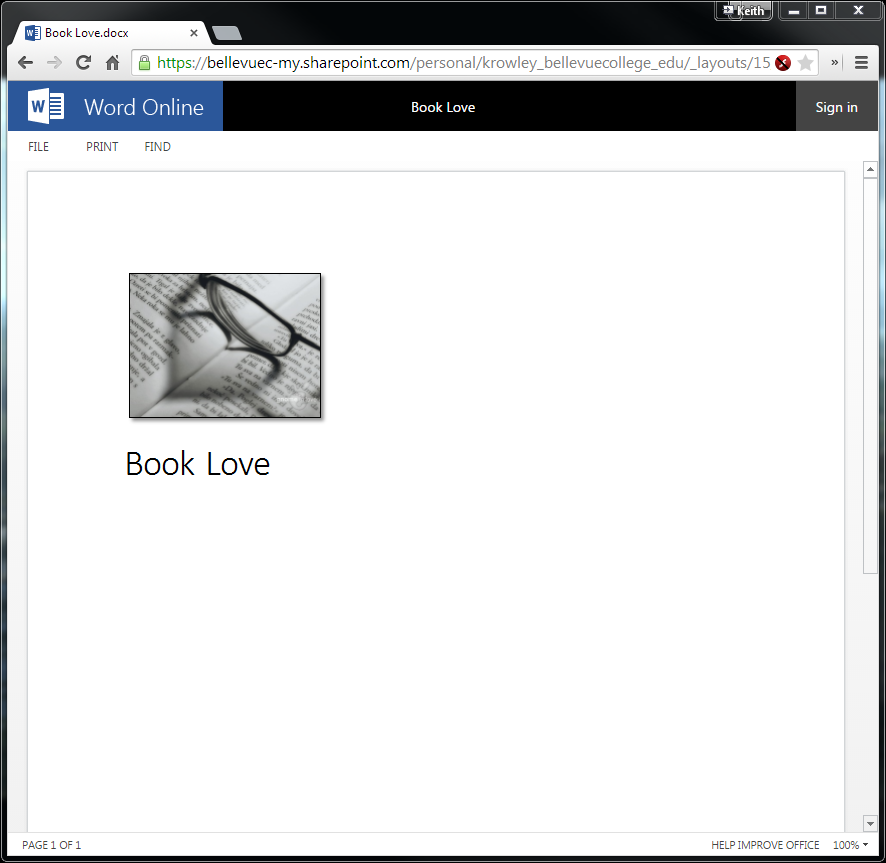 Now, that's pretty cool. But, what if I want to do what Bruce does in his Canvas Pages– embed? Let's snag this file's embed code from OneDrive, and paste that iframe code here:
This is an embedded Microsoft Office document, powered by Office Online.
What?? Nooo! How lame! WordPress totally ditched the iframe code, and replaced it with this:

Yep, after a cursory search of the WordPress.org support and forums, it appears that WordPress strips out iframe code for "security" reasons. Bummer. I want this all to come together. I want to be able to put my Office documents anywhere. I want to be able to collaborate with others on any site. I know computer security people hate users like me.
Which reminds me of an issue that the college is encountering on other levels right now, and a relevant quote from Ben Franklin:
Those who would give up essential Liberty, to purchase a little temporary Safety, deserve neither Liberty nor Safety.
Blessings,
K