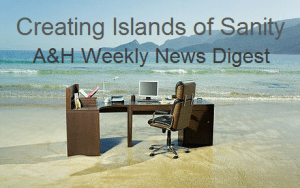 THIS WEEK
♦  Thursday, March 22, 5:30-7:30 p.m. L 124. YOU ARE INVITED to the OPENING NIGHT RECEPTION for the Winter 2018 Senior Capstone Exhibit. Great projects, great students, great food & a great time is what you'll find at the Interior Design Department's Spring Capstone Graduates Reception. Exhibit will be on display through Saturday, March 25. Link to the FYI Bulletin.
---

FACULTY RESOURCES
♦  Article from the SEATTLE TIMES – Liberal arts degree delivers liberal earnings and job satisfaction. Submitted by Gordon Leighton
♦  The Quality Online Instruction Request Form and eLearning Course Review Best Practices information document have been posted on the A&H home page under Faculty Resources directly under the Important Links area
♦ Do you have information to share that you think might benefit your division colleagues?  "Faculty Resources," is the section for disseminating informative articles, workshops, and other events of specific interest to faculty.  Please send all info to:  Janis Juarez
---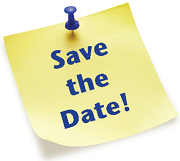 UPCOMING EVENT
♦  Monday, April 9, 10:30-11:20 a.m., Room D 106. PHILOSOPHY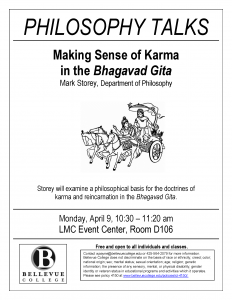 TALKS Event – Making Sense of Karma in the Bhagavad Gita.  Mark Story, from the BC Philosophy Department, will examine a philosophical basis for the doctrines of karma and reincarnation in the Bhagavad Gita.  Free and open to all individuals and classes.
For more information contact Mark Storey, or call 425-564-2118.  For information on the Philosophy Talks series, or the BC Philosophy Dept. contact Department Chair Russ Payne, or call 425-564-2079.
♦  This spring (May 24-26 & May 30 – June 2)the Theatre Arts Department is producing the musical Heathers. If ASL interpretation is needed, please contact Katelynn at katelynn.creeley@bellevuecollege.edu BEFORE APRIL 13