THIS WEEK
♦ Spring 2018 office hours. Please send your office hours to  Jon Kissoondyal .  He is asking for:  time available to students, office location, office phone #. 
** We need this info up at the front desk for students, staff and faculty inquiries.

---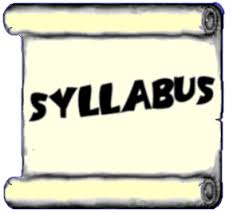 SYLLABI INFORMATION
♦  Please send spring 2018 syllabi to Janis Juarez via e-mail or through the Request Center.  Send ELI and all BaTS syllabi to Seda Markarova.
Keep sending the CANVAS links to Seda and me, the links are working out great on the A&H web site. Don't forget to mark the links "public," see below for instructions.

♦ Making Syllabi public.  Go into settings (located at the bottom on the left-hand menu), scroll down to "Visibility," make sure the word "course" is in the box.  Right beneath the Visibility box check ü "Customize," the word "syllabus" should be showing, make sure the word "public" is displayed.
♦ Please follow this link for Informational Technology Service (ITS, or also known as the HelpDesk) AND other recent updated links and info about the syllabus template.
---

FACULTY RESOURCES
♦ Please review the Faculty Commons spring 2018 schedule to be informed of all workshops available.
♦ Do you have information to share that you think might benefit your division colleagues?  The weekly A&H Digest  features "Faculty Resources," for disseminating informative articles, workshops, and other events of specific interest to faculty.  Please send all info to:  Janis Juarez
---

UPCOMING EVENTS
♦ Monday, April 9, 10:30-11:20 a.m., Room D 106.  PHILOSOPHY TALKS Event – Making Sense of Karma in the Bhagavad Gita.  Mark Story, from the BC Philosophy Department, will examine a philosophical basis for the doctrines of karma and reincarnation in the Bhagavad Gita.  Free and open to all individuals and classes.
♦ This spring (May 24-26 & May 30 – June 2) the Theatre Arts Department is producing the musical Heathers.  If ASL interpretation is needed, please contact Katelynn at katelynn.creeley@bellevuecollege.edu  BEFORE APRIL 13

♦ Wednesday, April 11. Jim Sisko's Bellevue College Jazz Band Performing at Tula's Jazz Club | 7:30 pm | $10 cover Charge

♦ April 12-14, 7:30 p.m. Stop Gap Theatre. Bellevue College Stage Fright Production, "Stop Kiss" by Diana Son, directed by Megan Mullen. Tickets $5, available through Brown Paper Tickets.