THIS WEEK
♦  TONIGHT through June 2, 7:30 p.m. | Heathers the Musical| tickets through Brown Paper Tickets.  "Sold Out" all performances.
♦ Thursday, May 31, 10:30 a.m. – 11:20 a.m., D 106| Philosophy Talks presents:Willpower is a Skill| Michael Funke, PhD | Philosophy Talk Flyer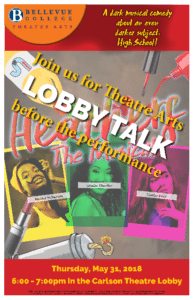 ♦ Thursday, May 31, 6:00 – 7:00 p.m., Theatre Lobby | Lobby Talk event to discuss issues brought up in the musical Heathers.  Justice vs. Revenge; Violence on high school campuses; the cost of fitting in and being liked.
♦ Sunday, June 3, 2:00 – 2:45 p.m., Bellevue Jazz & Blues Festival |  BC Jazz Combo, directed by Jim Sisko will perform at the Bellevue Art Museum | free admission | Event Schedule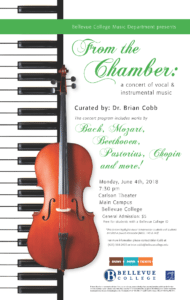 ♦  Monday, June 4, 7:30 p.m., Carlson Theatre | From the Chamber Concert, curated by Dr. Brian Cobb | Tickets: $5 general, free for BC students with a student I.D.
---
 YEAR END CELEBRATION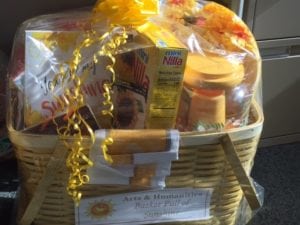 ♦  Year End Celebration – Raffle Baskets. A huge "THANK YOU" to everyone that contributed.  The baskets wouldn't happen without your involvement.  They will be around until Friday afternoon.  They will be assembled Thursday, and the final touches will be made on Friday morning.
The in-house drawing will take place Tuesday, June 5 for those that contributed.  A lot of fun items have been donated for the drawing.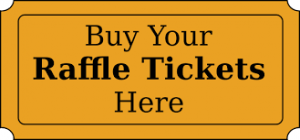 ♦ Raffle tickets are now available for all the baskets donated from all divisions and departments on campus.  Janis Juarez has them available at her desk
in R 230.  $1 per ticket.  The tickets will be available until June 5, at 3:00 and also available for purchase at the end of the year event outside the Carlson Theatre on June 6.  Read more about additional locations to buy tickets. Checks should be made out to: BC Foundation and note "Resource Network" in the memo line.
---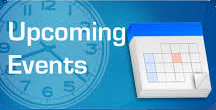 UPCOMING EVENTS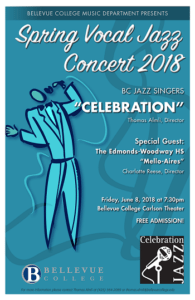 ♦  Friday, June 8, 7:30 p.m. | Carlson Theatre | BC Jazz Singers "Celebration", directed by Thomas Almli | Free Admission
♦ Wednesday,  June 13, 7:30 p.m. |  Jim Sisko's Bellevue College Jazz Band Performing at Tula's Jazz Club | $10 cover charge
♦ Thursday, June 14, 7:00 p.m. | BC Gymnasium |Class of 2018 GED, HS21+, ESL, & I-BEST Graduation Ceremony | Invitation Letter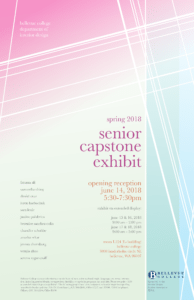 ♦ Thursday, June 14, 5:30 p.m. | Room L124 | Opening reception – Senior Capstone Exhibit | See Interior Design web site for more information.
Invitation Flyer (pdf file)