♦ TONIGHT! JUNE 19 | JAZZ COMBOS CONCERT, Jim Sisko Director | Carlson Theatre, 7:30 p.m. | Featuring the Bellevue College Instrumental Jazz Combos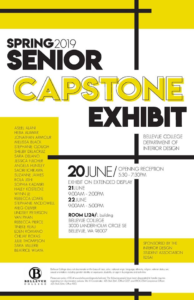 ♦ THURSDAY, JUNE 20 | SENIOR CAPSTONE RECEPTION | L124, 5:30 – 7:30 p.m. | A chance to see our 2019 Spring graduates and their Capstone design project. Always great fun and great food! Don't miss this event! INDES Facebook page.
♦ FRIDAY, JUNE 21 | FAREWELL TO TUAN DANG | 1 – 2 p.m. Breakroom in R 230 Those on campus before graduation should stop by the lunchroom for a late lunch of sandwiches, chips, and drinks and to say goodbye to Tuan.
♦ TUESDAY, JUNE 25, 5 to 7 p.m. HUGO EVENT – Seattle7Writers' writers-in-residence will read from their works in the Salon. The bar will be open – come celebrate with us! This is the program's final year. The 2018-19 residents are Matthew Bennett, Cara Diaconoff, Apple Plotnick Janotta, and Sarah Steinberg. Each will read briefly from writing they created during their time in residence. S7W cofounder Jennie Shortridge will emcee. Visit the Hugo House web site to read the full announcement.
A&H SUMMER OFFICE HOURS
♦ JUNE 24 – JUNE 28 | Monday –Thursday office hours: 7 a.m. – 5 p.m. & Friday 8 a.m. – Noon
JULY 1 – JULY 5 | Monday – Friday office hours: 7 a.m. – 5 p.m. Office closed Thursday, July 4.
JULY 8 – AUGUST 30 | Monday –Thursday office hours: 7 a.m. – 5 p.m. & Friday 8 a.m. – Noon