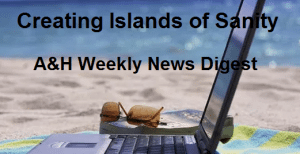 THIS WEEK
♦ SYLLABI – Summer faculty are working on summer 2019 syllabi (yes?). When completed, please send to Janis Juarez via e-mail or though the Request Center. Send ELI and all Basic and Transitional Studies syllabi to Seda Markarova. Most preferred are the CANVAS syllabi links. To mark your syllabus "public" in Canvas, please view instruction and explanation on the A&H Commons web site.
♦ OFFICE HOURS – Please send your summer quarter office hours, or time of availability to students, to Jin Wang. She would like the following: Time of availability, how or where? Office location and office phone number.

PLEASE MAKE NOTE
♦ REMEMBER! The staff will be working half days on Fridays during summer, with the exception of July 5 (full day). The campus will be
closed Thursday, July 4.
♦ FACULTY COMMONS SUMMER 2019 PROGRAM. Check out what the Faculty Commons WEB SITE to see what their summer 2019 schedule has to offer.
♦ Do you have information to share that you think might benefit your division colleagues? The A&H Weekly News Digest features
"Faculty Resources" for disseminating informative articles, workshops, and other events of specific interest to faculty. Please send all info to: Janis Juarez.