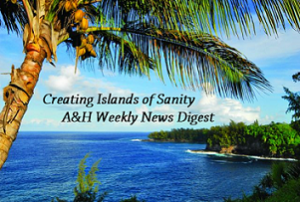 THIS WEEK
♦ March 8-11, 2017 –  Carrie the Musical, Carlson Theatre, 7:30 pm | Tickets available through Brown Paper Tickets.
♦  TONIGHT! March 8, 2017 – Jim Sisko's Bellevue College Jazz Orchestra Performing at Tula's Jazz Club  – $10 cover charge 7:30 pm.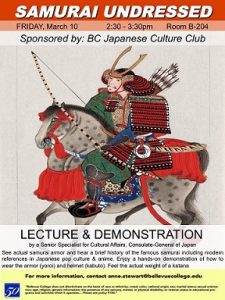 ♦  FRIDAY, March 10, 2017, "Samurai Undressed" – 2:30-3:30 pm in Room B 204. Sponsored by the Japanese Culture Club. Guest speaker from the Consulate-General of Japan will be presenting a lecture demonstration on Japanese samurai. Read more about this event in this week's BC FYI announcement. Submitted by Anne Stewart
---
A&H MARGIN OF EXCELLENCE AWARD WINNER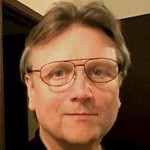 ♦  CONGRATULATIONS! to Bruce Wolcott, winner of this year's Margin of Excellence Award for adjunct faculty. Bruce teaches for CMST and the DMA program in iBIT. He also is in the eLearning Center in the Library assisting faculty with online instruction.  He is very creative and has interests in new media, writing for the web, visual storytelling, animation, and virtual reality.  He is awesome! Congratulations Bruce!!
---
♦ March 15, 2017, A&H Lunchroom 11:00 – 12:00. More info about the potluck on the sign-up sheet for your food item. Please feel free to bring a donation for the Student Food Cabinet.
---

⇓   New!  FACULTY RESOURCES New! ⇓
♦ PLEASE NOTE! Information Technology Services (ITS). or also known as the "Help Desk," has UPDATED their web site. All links to the old site are NO LONGER working.  Please be mindful while updating your spring syllabi that the ITS links will need to be updated.
♦ This link will take you to the ITS Service Desk.
♦ This is a link to the Student Computer Labs & Printing Kiosks.
♦ This is the "Home" page.
 Be sure to include your Course Outcomes in your syllabus.
Please note that  

Public Safety

has moved to D 171.
---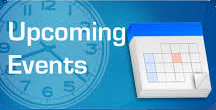 UPCOMING EVENTS
♦ March 17, 2017 – Bellevue College Student Dance Showcase, Carlson Theatre, Tickets available through Brown Paper Tickets.
♦ March 18, 2017 – BC Concert Choir, directed by Aimee Hong "At the Movies." 7:30 – 9:30 pm.  Saint Margaret's Episcopal Church.  Tickets ($5) available through Brown Paper Tickets.  Tickets can also be purchased at the door.
♦ March 18, 2017 – 1:00 pm A walk through of Dale
Lindman's exhibition "A Survery: Three Decades" in the Gallery Space by Curator, Francine Seders.
♦ March 20, 2017 – The Music Dept. Presents: From the Chamber, a Concert of Vocal and Instrumental Music. Curated by Dr. Brian Cobb | 7:30 pm | Carlson Theatre. Admission: $5 through Brown Paper Tickets.
♦ March 22, 2017 – Interior Design Winter 2017 Senior Capstone Exhibit – Opening Night Reception 5:30 – 7:30 pm, Room L124.