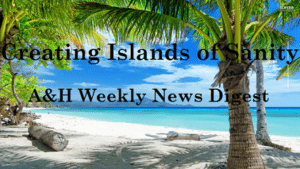 THIS WEEK
♦ Friday, April 6. 7:30 – 9:30 p.m., Hugo House (1021 Columbia St), FREE | You are Invited to attend the Fernando Pérez: A Song of Dismantling | Book Launch. Visit the Hugo House web site for more information.
---

FACULTY RESOURCES
♦ Do you have information to share that you think might benefit your division colleagues?  The weekly A&H Digest  features "Faculty Resources," for disseminating informative articles, workshops, and other events of specific interest to faculty.  Please send all info to:  Janis Juarez.
---
ACADEMIC SUCCESS CENTER
♦ Could any of your students benefit from the Reading, Writing, or Study Skills workshops offered by the Academic Success Center?  Then check out the April schedule on the ASC web site.

---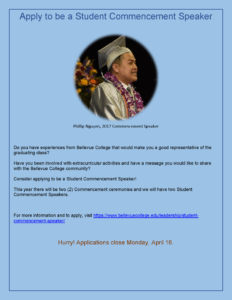 COMMENCEMENT SPEAKERS WANTED
♦  Greetings colleagues! I'm serving on the Commencement Committee, and we are in the process of identifying two student commencement speakers (one earning a transfer degree, and one earning either a Bachelor's or Professional/Technical degree.)  Would you be willing to pass on this informing to your student and encourage them to apply?  Applications are due on Monday, April 16.  Thanks much, Katherine Oleson. ⇒ pdf file ⇐
*Please visit the A&H Commons web site for an informational flyer.
*Please visit the Student Programs web site with all information available.
---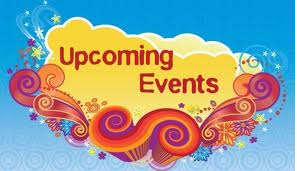 UPCOMING EVENTS
♦  Monday, April 9, 10:30-11:20 a.m., Room D 106.  PHILOSOPHY TALKS EVENT– Making Sense of Karma in the Bhagavad Gita.  Mark Story, from the BC Philosophy Department, will examine a philosophical basis for the doctrines of karma and reincarnation in the Bhagavad Gita.  Free and open to all individuals and classes.

♦  Wednesday, April 11. Jim Sisko's Bellevue College Jazz Band Performing at Tula's Jazz Club | 7:30 pm | $10 cover Charge

♦ April 12-14, 7:30 p.m. Stop Gap Theatre. Bellevue College Stage Fright Production, "Stop Kiss" by Diana Son, directed by Megan Mullen. Tickets $5, available through Brown Paper Tickets

♦ Thursday, April 26, Opening Night Reception, Project 42, with Jono Vaughan, Seattle Art Museum More info is available on the SAM web site.   The show will open to the public on April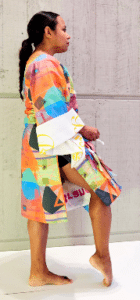 21 and runs till August 5.    Contact Jono Vaughan to be included in the "Invite Only" area at this special event.  Jono Vaughan was the recipient of the 2017 Betty Bowen award.