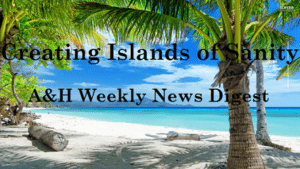 THIS WEEK

♦ TONIGHT! May 9, 7:30 p.m. | Jim Sisko's Bellevue College Jazz Band Performing at Tula's Jazz Club | $10 cover charge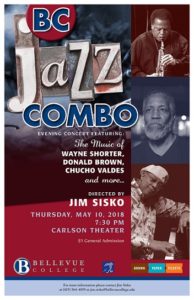 ♦ Thursday, May 10, 7:30 p.m. | BC Jazz Combo Concert | Carlson Theatre
♦  Thursday, May 10, 7:00 p.m. | book reading by Fernando Perez, Couth Buzzard Books in the Greenwood neighborhood of Seattle. Please visit the Crab Creek Review Blog for more info.
♦ Saturday, May 12, 7:30 p.m. | Stage Fright Performance – Write On! |
Admission is FREE | Stop Gap Theatre
---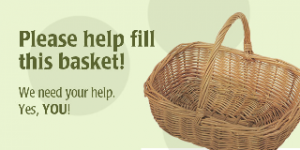 «« YEAR END CELEBRATION  ««
♦ WE REALLY NEED YOUR HELP! Year End Celebration – Raffle Baskets.  Donations are at a slow trickle   We do need more items (lots!). One item we need is "goodies," i.e. bag of pretzels, corn nuts, popcorn, chips etc.  Please click on this link to read more about how you can help, and how the raffle baskets benefit the Bellevue College community.  Remember your names will be added for the Arts & Humanities raffle when you donate items.
---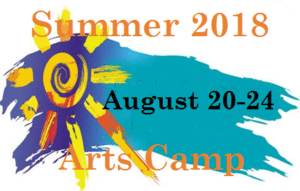 A&H Summer Arts Camp
♦ August 20-24, morning and afternoon sessions. Summer Arts camp is designed for students entering 5th and 6th grade fall 2018.  Please note there is a reduced fee for college employees.  Please pass this info along if you know of anyone that has children that might be interested attending.  Lots of fun activities.  Please visit the A&H Summer Arts Camp web site to learn more.

---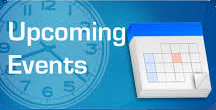 UPCOMING EVENTS
♦ Monday, May 22, 12:30-1:20 | Philosophy Talk – The Irreducibility of Free Will, Timothy Linnemann, BC Philosophy Dept.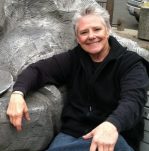 ♦ Thursday, May 24, Noon – 1:00 p.m. , R 230 Lunch room | Paula Sebastian's Retirement Party |   Come and say goodbye and have a slice of French chocolate cake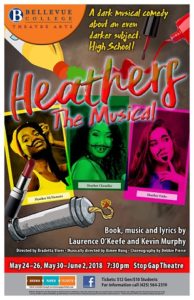 ♦ May 24 – June 2, 7:30 p.m. | Heathers the Musical | tickets through Brown Paper Tickets
SOLD OUT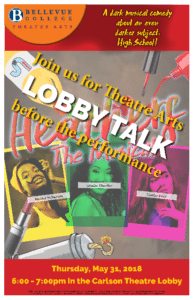 ♦ Thursday, May 31, 6:00 – 7:00 p.m., Theatre Lobby | Lobby Talk event to discuss issues brought up in the musical Heathers.  Justice vs. Revenge; Violence on high school campuses; the cost of fitting in and being liked.