THIS WEEK
♦ TODAY! May 16, 10:30 a.m. – 2:30 p.m., C Building Lobby | The BC Japanese Culture Exchange Club members will be selling donated Japanese items to raise funds for this year's Japan Week.  Event Flyer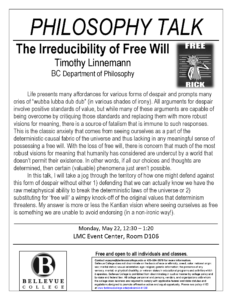 ♦ TUESDAY, May 22, 12:30 – 1:30 in D 106 | Philosophy Talks presents: The Irreducibility of Free Will.  Our own Philosophy instructor, Tim Linnemann, will address the anxiety and despair that often accompanies the notion that we are trapped in a causally deterministic web of events, lacking any meaningful kind of free will.  Philosophy Talk Flyer.
---
ENGLISH FACULTY RESEARCH PRESENTATIONS
♦ Tuesday, May 22, 12:30 – 2:00 p.m., Faculty Commons (D 104H) | In these presentations (Scholarship, Pedagogy, & Social Justice), English faculty Brian Bergen-aurand, Lindsay Haney, Nan Ma, and Jun Xu will discuss their scholarly work and reflect on the interconnections between research, teaching and issues of social justice.
Brian Bergen-aurand: "crip Comedians, Sit Down Humor, and the New Disability Sensibility"
Lindsay Haney: "Historical Duty' and the Limits of Allyship: Immigration, Live Aid, and Irishness"
Nan Ma: "The Politics of Anger and the Model Minority Myth: Chang-rae Lee's A Gesture Life"
Jun Xu: "Understanding Classroom Culture in Science through Genres"
---
 ♦ Crosscurrents, the arts and literary journal of the Washington Community College Humanities Association, is now accepting poems, prose, and art from WA community college instructors, working or retired, for the 2018 edition.  The deadline for submissions is May 25, 2018.  For more information go to wccha.org   |   Guidelines Flyer (pdf file)
---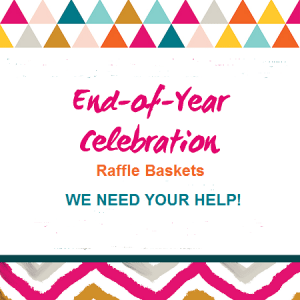 !! YEAR END CELEBRATION  !!
♦ WE REALLY NEED YOUR HELP! Year End Celebration – Raffle Baskets.  Donations continue to be at a slow trickle   We do need more items (lots!). One item we need is "goodies," i.e. bag of pretzels, corn nuts, popcorn, chips and salsa.  Please click on this link to read more about how you can help, and how the raffle baskets benefit the Bellevue College community.  Remember your names will be added for the Arts & Humanities in-house raffle when you donate items.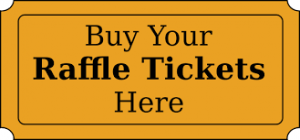 ♦  Raffle tickets are now available. Janis Juarez has them available at her desk  in R 230.  $1 per ticket.  The tickets will be available until June 5, at 3:00 and also available for purchase at the end of the year event outside the Carlson Theatre on June 6.  Read more about additional locations to buy tickets. Checks should be made out to: BC Foundation and note "Resource Network" in the memo line.
---
UPCOMING EVENTS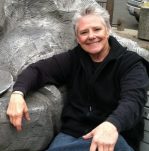 ♦  Thursday, May 24, Noon – 1:00 p.m. , R 230 Lunch room | Paula Sebastian's Retirement Party |   Come and say goodbye and have a slice of French chocolate cake.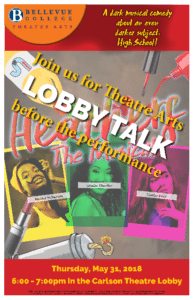 ♦ May 24 – June 2, 7:30 p.m. | Heathers the Musical | tickets through Brown Paper Tickets.  "Sold Out" all performances
♦ Thursday, May 31, 6:00 – 7:00 p.m., Theatre Lobby | Lobby Talk event to discuss issues brought up in the musical Heathers.  Justice vs. Revenge; Violence on high school campuses; the cost of fitting in and being liked.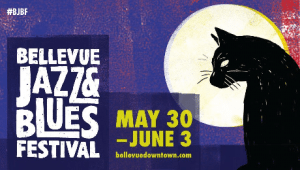 ♦ Sunday, June 3, 2:00 – 2:45 p.m., Bellevue Jazz & Blues Festival | BC Jazz Combo, directed by Jim Sisko will perform at the Bellevue Art Museum | free admission | Event Schedule
♦ Monday, June 4, 7:30 p.m., Carlson Theatre | From the Chamber Concert, curated by Dr. Brian Cobb | Tickets: $5 general, free for BC students with a student I.D.