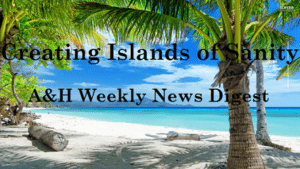 THIS WEEK
♦  JAPAN WEEK continues: TODAY'S lectures (OCT. 3)
1. Elements of Japanese Interior Design, 1:30-2:30 p.m., D106
2. The Samurai Secret of Success, 2:30-3:20 p.m., D106
♦ THURSDAY, OCT. 4 & FRIDAY, OCT. 5 –  visit the
JAPAN WEEK web site for program information.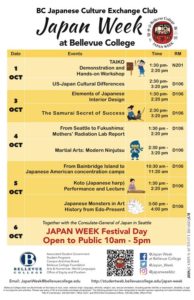 **We now have over 220 volunteers signed up to help on Saturday, Oct. 6, so
volunteer applications are not being accepted at this time.  It will be
an awesome event for all volunteers and non-volunteers.  Browse
around the Japan Week website, created by our students, to find
something of interest to you.  Looking forward to seeing many of you!
– submitted by Anne Matsumoto Stewart
♦ SATURDAY, OCT. 6 – Belletrist Seattle Release Party,
Vermillion Art Gallery & Bar, 1508 11th Avenue, Seattle, 98122
Doors open at 4:00 p.m. for drinks and food. Reading will begin
5:15ish.  All ages are welcome.  Come hear a smattering of our
fantastic writers!  Readers include Jason Bargueno, Amy Schrader,
Gina LaLonde, Erika Michael, Linda Malnack, Arlene Naganawa,
Karen Holman & Dehlia Ackley.  Hope to see you there!
-submitted by Jeanne Morel
♦ MONDAY, OCT. 8 – Cesar Chavez and Non-violence, a presentation by
Philosophy instructor Mark Storey.  D126P, 1:30-2:20 p.m.  Flyer (pdf file)
FACULTY RESOURCES
♦ Instructors can submit tickets (through the Request Center) for any instructional
design/canvas/eLearning queries.  eLearning will assign a designated
instructional designer to assist them.  Request Center Link (you may need to
log in first with your log in info.)  After you log into the Request Center and
click on the eLearning icon (middle row, scroll down towards the bottom), you will
see the Request Center Menu, choose the link that best describes your issue.
♦ Inclusion is all our responsibilities. Please visit the Faculty Common's Blog to read
valuable blog posts about various experiences with diversity in higher education.
Also, please read about how to take care of self in these volatile times.
1. Visiting and online discussion with students about the concept of reverse racism  (10/04/18)
2. Autism 101: Autism Cultural Responsiveness for Improved Interactions (9/24/2018)
3. The Importance of Awareness of Self and Self-Care Part II (9/24/2018
4. The Importance of Awareness of Self and Self-Care (09/1/2018)
Please check back weekly!  Submitted by Ron Holland
♦ Do you have information to share that you think might benefit your division
colleagues? The weekly A&H Digest  features "Faculty Resources," for
disseminating informative articles, workshops, and other events of specific interest to
Please send all info to:  Janis Juarez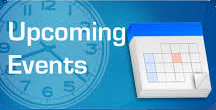 UPCOMING EVENTS
♦ Friday, October 19  – 70th Annual Northwest Philosophy Conference. 
Guest speaker, Andrew Light will be speaking on Climate Justice, Carlson Theatre,
Noon – 2:00 p.m.  All are welcome.
♦ November 8-10 & 15-17.  Heavier Than by Steve Yockey | Stop Gap Studio, 7:30 p.m.
Tickets available through Brown Paper Tickets